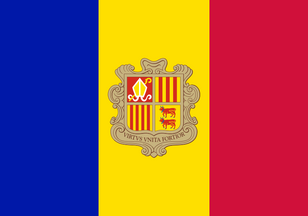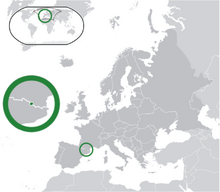 Andorra
Andorra (i/ænˈdɔːrə/; Catalan: [ənˈdorə], locally: [anˈdɔra]), officially the Principality of Andorra (Catalan: Principat
d'Andorra), also called the Principality of the Valleys of Andorra[5] (Catalan: Principat de les Valls d'Andorra), is a sovereign landlocked microstate in Southwestern Europe, located in the eastern Pyrenees
mountains and bordered by Spain and France. Created under a charter in A.D. 988, the present Principality was formed in A.D. 1278. It is known as a principality as it is a monarchy headed by two Co-Princes – the Spanish/Roman Catholic Bishop of Urgell and the President of France.
Andorra is the sixth-smallest nation in Europe, having an area of 468 km2 (181 sq mi) and a population of approximately 85,000.[6] Its capital Andorra la Vella is the highest capital city in Europe, at an elevation of 1,023 metres (3,356 ft) above sea level.[7] The official language is Catalan, although Spanish, Portuguese, and French are also commonly spoken.[6][8]
Andorra's tourism services an estimated 10.2 million visitors annually.[9] It is not a member of the European Union, but the euro is the de facto currency. It has been a member of the United Nations since 1993.[10] The people of Andorra have one of the highest life expectancies in the world and as of December 2014, according to The Lancet, have the highest in the world - 81 years in 2013.[11]
All sources from Wikipedia
Ad blocker interference detected!
Wikia is a free-to-use site that makes money from advertising. We have a modified experience for viewers using ad blockers

Wikia is not accessible if you've made further modifications. Remove the custom ad blocker rule(s) and the page will load as expected.