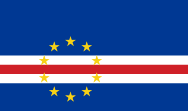 Cape Verde /ˌkeɪp ˈvɜrd/ or Cabo Verde /kaːboʊ ˈvɜrdeɪ/ (Portuguese: Cabo Verde, pronounced: [ˈkabu ˈveɾdɨ]), officially the Republic of Cabo Verde,[5] is an island country spanning an archipelago of 10 volcanic islands in the central Atlantic Ocean. Located 570 kilometres (350 mi) off the coast of Western Africa, the islands cover a combined area of slightly over 4,000 square kilometres (1,500 sq mi).
The Cape Verde archipelago was uninhabited until the 15th century, when Portuguese explorers discovered and colonized the islands, establishing the first European settlement in the tropics. Ideally located for the Atlantic slave trade, the islands grew prosperous throughout the 16th and 17th centuries, attracting merchants, privateers, and pirates. The end of slavery in the 19th century led to economic decline and emigration, although Cape Verde gradually recovered as an important commercial center and stopover for shipping routes. Incorporated as an overseas department of Portugal in 1951, the islands continued to agitate for independence, which was peacefully achieved in 1975.
Since independence, Cape Verde has been a stable representative democracy, and remains one of the most developed and democratic countries in Africa. Lacking natural resources, its developing economy is mostly service-oriented, with a growing focus on tourism and foreign investment. Its population of around 512,000 is mostly of mixed European and African heritage (mestiços), and predominantly Roman Catholic, reflecting the legacy of Portuguese rule. A sizeable diaspora community exists across the world, slightly outnumbering inhabitants on the islands.
Historically, the name "Cape Verde" has been used in English for the archipelago and, since independence in 1975, for the country. In 2013, the Cape Verdean government determined that the Portuguese designation "Cabo Verde" would henceforth be used for official purposes, such as at theUnited Nations, even in English contexts.
Ad blocker interference detected!
Wikia is a free-to-use site that makes money from advertising. We have a modified experience for viewers using ad blockers

Wikia is not accessible if you've made further modifications. Remove the custom ad blocker rule(s) and the page will load as expected.