Estonia
Estonia
(
i
/ɛˈstoʊniə/;
[10][11]
Estonian:
Eesti
[ˈeːsti]), officially the
Republic of Estonia
(Estonian:
Eesti Vabariik
), is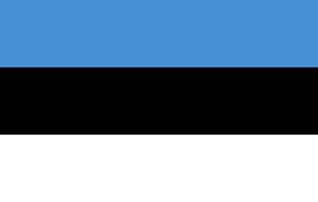 a country in the Baltic region of Northern Europe. It is bordered to the north by the Gulf of Finland, to the west by the Baltic Sea, to the south by Latvia (343 km), and to the east by Lake Peipus and Russia (338.6 km).
[12]
Across the Baltic Sea lies Sweden in the west and Finland
in the north. The territory of Estonia consists of a mainland and over 1500 islands and islets in the Baltic Sea, covering 45,227 km2 (17,462 sq mi) of land, and is influenced by a humid continental climate.
Estonia is a democratic parliamentary republic divided into fifteen counties, with its capital and largest city being Tallinn. With a population of 1.3 million, it is one of the least-populous member states of the European Union, Eurozone, the North Atlantic Treaty Organization and the Schengen Area. The Estonians are a Finnic people, and the official language, Estonian, is a Finno-Ugric language closely related to Finnish and the Sami languages, and distantly to Hungarian.
A developed country with an advanced, high-income economy[13] and high living standards, Estonia is a member of the Organisation for Economic Co-operation and Development. It ranks very high in the Human Development Index,[6] and performs favourably in measurements of economic freedom, civil liberties, education, and press freedom (third in the world in 2012).[14] Estonia is often described as one of the most wired countries in Europe.[15][16]
All source from Wikipedia
Ad blocker interference detected!
Wikia is a free-to-use site that makes money from advertising. We have a modified experience for viewers using ad blockers

Wikia is not accessible if you've made further modifications. Remove the custom ad blocker rule(s) and the page will load as expected.