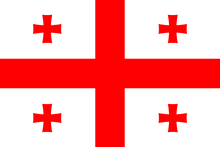 Georgia i/ˈdʒɔrdʒə/ (Georgian: საქართველო Sakartvelo, IPA: [sɑkʰɑrtʰvɛlɔ] ( listen)) is a country in the Caucasus region of Eurasia. Located at the crossroads of Western Asia and Eastern Europe, it is bounded to the west by the Black Sea, to the north by Russia, to the south by Turkey and Armenia, and to the southeast by Azerbaijan. The capital and largest city is Tbilisi. Georgia covers a territory of 69,700 square kilometres (26,911 sq mi), and its population is almost 5 million. Georgia is a unitary, semi-presidential republic, with the government elected through a representative democracy.
During the classical era, several independent kingdoms became established in what is now Georgia. The kingdoms of Colchis and Iberia adopted Christianity in the early 4th century, making previously dominantpaganism, Zoroastrianism, and Mithraism gradually decline. A unified Kingdom of Georgia reached the peak of its political and economic strength during the reign of King David IV and Queen Tamar in the 11th–12th centuries. Thereafter the area was dominated by various large empires for centuries, including the Safavids, Afsharids, and Qajar Iranians. In the late 18th century, the kingdom of Kartli-Kakheti forged an alliance with the Russian Empire, and the area was annexed by Russia in 1801. The latter's rule over Georgia got confirmed in 1813 by the Treaty of Gulistan. After a brief period of independence following the Russian Revolution of 1917, Georgia was occupied by Soviet Russia in 1921, becoming part of the Soviet Union as the Georgian Soviet Socialist Republic. After independence in 1991, post-communist Georgia suffered from civil unrestand economic crisis for most of the 1990s. This lasted until the Rose Revolution of 2003, after which the new government introduced democratic and economic reforms.
Georgia is a member of the Council of Europe and the GUAM Organization for Democracy and Economic Development. It contains two de facto independent regions, Abkhazia and South Ossetia, which gained limited international recognition after the 2008 Russo-Georgian War. Georgia and a major part of the international community consider the regions to be part of Georgia's sovereign territory under Russian military occupation.[9]
All sources from Wikipedia.
Ad blocker interference detected!
Wikia is a free-to-use site that makes money from advertising. We have a modified experience for viewers using ad blockers

Wikia is not accessible if you've made further modifications. Remove the custom ad blocker rule(s) and the page will load as expected.