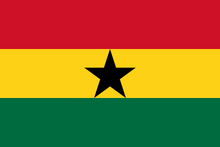 Ghana (i/ˈɡɑːnə/), officially called the Republic of Ghana, is a sovereign multinational state and unitary presidential constitutional democracy, located along the Gulf of Guinea and Atlantic Ocean, in the subregion of West Africa. Spanning a land mass of 238,535 km2, Ghana is bordered by the Ivory Coast in the west, Burkina Faso in the north, Togo in the east and the Gulf of Guinea and Atlantic Ocean in the south. The word Ghana means "Warrior King" in Mande.[10]
Ghana has a population of approximately 27 million from a variety of ethnic and religious groups.[5] Its varied geography includes savannas, forests, springs, cave systems, mountains, estuaries, and nature reserves.[11][12][13] Ghana's 560-kilometre (350-mile) coast is dotted by culturally significant castles, forts, and harbours.[13] Prior to colonisation by the British empire in the early-20th century, Ghana was the site of numerous kingdoms and empires, the most powerful being the Kingdom of Ashanti.[14] In 1957, it became the first sub-saharan African nation to declare independence from European colonisation.[15][16][17]
Ghana's economy is the ninth-largest on the Africa continent by purchasing power parity and nominal GDP.[18][19] Ghana is a major producer of petroleum and natural gas, with the continent's fifth largest oil reserves and sixth largest natural gas reserves.[20] It is one of the world's largest gold and diamond producers,[citation needed] and is projected to be the largest producer of cocoa in the world as of 2015.[21][22] Ghana's growing economic prosperity and democratic political system has made it a regional power in West Africa.[23] It is a member of the Non-Aligned Movement, the Economic Community of West African States (ECOWAS) and the Group of 24(G24).[24]
All sources from Wikipedia.