About Glue sticks.
Glue sticks are solid adhesives in twist or push-up tubes. The user can apply glue by holding the open tube, thus keeping their fingers clean. Because of their ease of use, and their economic value, glue sticks are a popular school and office supply. Glue sticks are designed to glue paper and card together, and are not as strong as some liquid based variants. They can be used for craft and design, office use and at school. There are now permanent, washable, acid-free, non-toxic, solvent free, and dyed (e.g. to see where the glue is being applied easier) varieties.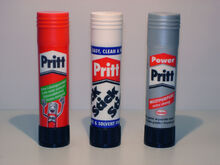 All sources from Wikipedia.
Ad blocker interference detected!
Wikia is a free-to-use site that makes money from advertising. We have a modified experience for viewers using ad blockers

Wikia is not accessible if you've made further modifications. Remove the custom ad blocker rule(s) and the page will load as expected.