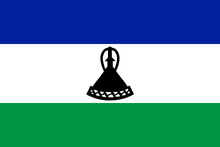 Lesotho (i/lɨˈsuːtuː/; li-soo-too), officially the Kingdom of Lesotho, is an enclaved landlocked country in southern Africa completely surrounded by South Africa. It is just over 30,000 km2 (11,583 sq mi) in size and has a population slightly over two million.[1] Its capital and largest city is Maseru. Lesotho is a member of the Commonwealth of Nations. The name Lesotho translates roughly into the land of the people who speak Sesotho.[5] About 40% of the population lives below the international poverty line of US $1.25 a day.[6]
Ad blocker interference detected!
Wikia is a free-to-use site that makes money from advertising. We have a modified experience for viewers using ad blockers

Wikia is not accessible if you've made further modifications. Remove the custom ad blocker rule(s) and the page will load as expected.