Liechtenstein
Liechtenstein
(
i
/ˈlɪktənstaɪn/;
LIK-tin-styn
; German: [ˈlɪçtn̩ʃtaɪn]), officially the
Principality of Liechtenstein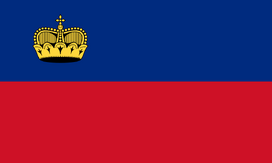 (German:
Fürstentum Liechtenstein
),
[6]
is a doubly landlocked German-speaking microstate in Central Europe.
[7]
It is a constitutional monarchy with the rank of principality, headed by the Prince of Liechtenstein.
Liechtenstein is bordered by Switzerland to the west and south and Austria to the east and north. It has an area of just over 160 square kilometres (62 square miles) and an estimated population of 37,000. Divided into 11 municipalities, its capital is Vaduz and largest town Schaan. Economically, Liechtenstein has the highest gross domestic product per person in the world when adjusted by purchasing power parity.[8] It is also the 2nd richest (by measure of GDP per capita) country in the world, after Qatar, and has one of the lowest unemployment rates at 1.5%.
An alpine country, Liechtenstein is mainly mountainous, making it a winter sports destination. Many cultivated fields and small farms are found both in the south (Oberland, upper land) and north (Unterland, lower land). The country has a strong financial sector centered in Vaduz, and has been identified as a tax haven. Liechtenstein is a member of the European Free Trade Association, and, while not a member of the European Union, the country participates in both the Schengen Area and European Economic Area. It also has a customs union and a monetary union with Switzerland.
All sources from Wikipedia
Ad blocker interference detected!
Wikia is a free-to-use site that makes money from advertising. We have a modified experience for viewers using ad blockers

Wikia is not accessible if you've made further modifications. Remove the custom ad blocker rule(s) and the page will load as expected.