Martinique
Martinique
(French pronunciation: ​[maʁ.tiˈnik]) is an island in the Lesser Antilles in the eastern Caribbean Sea, with a land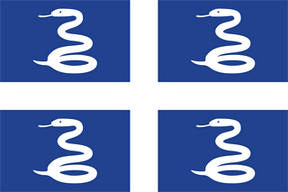 area of 1,128 square kilometres (436 sq mi) and a population of 386,486 inhabitants (as of January 2013). Like Guadeloupe, it is an overseas region of France, consisting of a single overseas department. One of the Windward Islands, it is directly north of Saint Lucia, northwest of Barbados, and south of Dominica.
As with the other overseas departments, Martinique is one of the twenty-seven regions of France (being an overseas region) and an integral part of the French Republic. As part of France, Martinique is part of the European Union, and its currency is the euro. The official language is French, and virtually the entire population also speak Antillean Creole (Créole Martiniquais).
Ad blocker interference detected!
Wikia is a free-to-use site that makes money from advertising. We have a modified experience for viewers using ad blockers

Wikia is not accessible if you've made further modifications. Remove the custom ad blocker rule(s) and the page will load as expected.