Info and Geography
The city of Moscow is a city with of over 10 million residents, and is the most populated city and the capital city of Russia. Moscow is located in Eastern Europe, but in Russia, it is in Western Russia. Moscow is the seat of power of the Government of Russia, being the site of the Moscow Kremlin. It is also not like any other city, but the largest city of the entire continent of Europe as well. The city of Moscow is located on the Moskva River. Moscow is also known for the largest building of Europe, the famous Moscow International Business Center.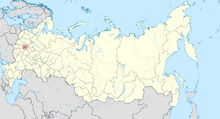 History of Moscow
Moscow was the first capital of the Duchy of Moscow/Muscovy in the 14th century for over 200 years. It soon was replaced by the Tsardom of Russia, moving the new capital to the city of Saint Petersburg. It then became the capital city of the Soviet Union once again. The city of Moscow was in a battle between Nazi Germany and the Soviets. The soviets had to defend Moscow from the Nazis taking it in the war. The Battle for Moscow ended up in a soviet victory, and soon at the end of the war, the Soviets also made the Soviet Satellite of East Germany. Many decades later, after the fall of the Soviet Union and independencies of several nations, Moscow became the capital of Russia from 1991, to the present. As you can see, Moscow had a role of being an important city in the history of Russia, and now leads to be one of the biggest cities of the world with many historic sites such as the "Tomb of the Unknown Soldier", and "Moscow Museum of Modern Art.", and many more.
Ad blocker interference detected!
Wikia is a free-to-use site that makes money from advertising. We have a modified experience for viewers using ad blockers

Wikia is not accessible if you've made further modifications. Remove the custom ad blocker rule(s) and the page will load as expected.