Pennsylvania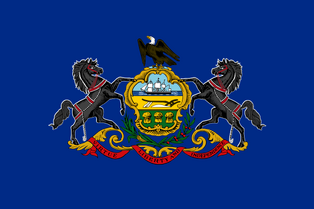 i
/ˌpɛnsɨlˈveɪnjə/ (Pennsylvania German: 
Pennsilfaani
), officially the 
Commonwealth of Pennsylvania
, is a U.S. state that is located in the Northeasternand Mid-Atlantic regions of the United States, and the Great Lakes region. The state borders Delaware to the southeast, Maryland to the south, West Virginia to the southwest, Ohio to the west, Lake Erie and Ontario, Canada to the northwest, New York to the north and New Jersey to the east. The Appalachian Mountains run through the middle of the state.
Pennsylvania is the 33rd largest, the 6th most populous, and the 9th most densely populated of the 50 United States. The state's five most populous cities arePhiladelphia (1,560,297), Pittsburgh (305,801), Allentown (118,577), Erie (100,671), and Reading (89,893). The state capital is Harrisburg. Pennsylvania has 51 miles (82 km) of coastline along Lake Erie and 57 miles (92 km)[6] of shoreline along the Delaware Estuary. The state is one of the 13 original founding states of the United States.
All sources from Wikipedia
Ad blocker interference detected!
Wikia is a free-to-use site that makes money from advertising. We have a modified experience for viewers using ad blockers

Wikia is not accessible if you've made further modifications. Remove the custom ad blocker rule(s) and the page will load as expected.