Pernambuco is a brazilian state in Nordeste (northeast) region. Its area is 98 311,616km², population is 9 277 727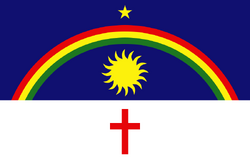 people and have 185 cities
History
| | |
| --- | --- |
| One year after the arrival of the portuguese in the New World, they arrived in Pernambuco, in the extreme east of South America. With the capitanias hereditárias division system, it became the Capitania of Pernambuco, a strip extended from the coast to Tordesilhas Treaty line. Just 2 capitanias could rise and develop, and Pernambuco was one of them because of the weather, that made sugar production increase a lot. | |
During Iberian Union, the young Holland invaded Pernambuco to weak the temporary spanish colony Brasil. Spain didn't have much resistence in the capitania, so the dutch easily created New Holland. But then happened the Insurreição Pernambucana (Pernambucan Uprising), an uprising of the people of the colony against dutch rule. Soon after the uprising Portugal (now out of the union) sent troops and expelled the dutch from Pernambuco.
WIP
Ad blocker interference detected!
Wikia is a free-to-use site that makes money from advertising. We have a modified experience for viewers using ad blockers

Wikia is not accessible if you've made further modifications. Remove the custom ad blocker rule(s) and the page will load as expected.