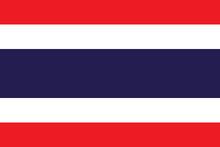 Thailand (/ˈtaɪlænd/ ty-land or /ˈtaɪlənd/ ty-lənd;[12] Thai: ประเทศไทย, rtgs: Prathet Thai), officially the Kingdom of Thailand (Thai: ราชอาณาจักรไทย, rtgs: Ratcha Anachak Thai; IPA: [râːt.tɕʰā ʔāːnāːtɕàk tʰāj] ( listen)), formerly known as Siam (Thai: สยาม; rtgs: Sayam), is a country at the centre of the Indochina peninsula in Southeast Asia. It is bordered to the north by Burma and Laos, to the east by Laos and Cambodia, to the south by the Gulf of Thailand and Malaysia, and to the west by the Andaman Sea and the southern extremity of Burma. Its maritime boundaries include Vietnam in the Gulf of Thailand to the southeast, and Indonesia and India on the Andaman Sea to the southwest.
Thailand is governed by a military junta that took power in the May 2014 coup d'état.[13] Its monarchy is headed by King Bhumibol Adulyadej, Rama IX, who is the ninth of the House of Chakri, and has reigned since 1946 as the world's longest-serving current head of state and the country's longest-reigning monarch.[14]
With a total area of approximately 513,000 km2 (198,000 sq mi), Thailand is the world's 51st-largest country. It is the 20th-most-populous country in the world, with around 66 million people. The capital and largest city isBangkok, which is Thailand's political, commercial, industrial, and cultural hub. About 75–95% of the population is ethnically Tai, which includes four major regional groups: central Thai, northeastern Thai (Khon [Lao] Isan),[2]northern Thai (Khon Mueang); and southern Thai. Thai Chinese, those of significant Chinese heritage, are 14% of the population,[5] while Thais with partial Chinese ancestry comprise up to 40% of the population.[15] Thai Malays represent 3% of the population, with the remainder consisting of Mons, Khmers and various "hill tribes". The country's official language is Thai and the primary religion is Buddhism, which is practised by around 95% of the population.
Thailand experienced rapid economic growth between 1985 and 1996, becoming a newly industrialised country and a major exporter. Manufacturing, agriculture, and tourism are leading sectors of the economy.[16][17] Among the ten ASEAN countries, Thailand ranks third in quality of life.[11] and the country's HDI is rated as "high". Its large population and growing economic influence have made it a middle power in the region and around the world.[18]
All sources from Wikipedia.
Ad blocker interference detected!
Wikia is a free-to-use site that makes money from advertising. We have a modified experience for viewers using ad blockers

Wikia is not accessible if you've made further modifications. Remove the custom ad blocker rule(s) and the page will load as expected.