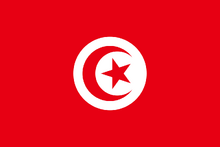 Tunisia is the northernmost country in Africa and, at almost 165,000 square kilometres (64,000 sq mi) in area.
It's northernmost point, Ras ben Sakka, is the northernmost point on the African continent. It is bordered byAlgeria to the west, Libya to the southeast, and the Mediterranean Sea to the north and east. As of 2013, its population is estimated at just under 10.8 million.[5] Its name is derived from its capital city, Tunis, located on the country's northeast coast.
Its customary name is rendered in English: Tunisia (US i/tuːˈniːʒə/ too-nee-zhə or UK i/tjuːˈnɪziə/ tew-niz-i-ə; in Arabic (official language): تونس Tūnis pronounced [ˈtuːnɪs]; in French (often used in commerce and as a lingua franca): Tunisie;[Notes 1] and in Berber: ⵜⵓⵏⴻⵙ. Officially, the country is the Tunisian Republic (though often referred to in English as the Republic of Tunisia;[10] Arabic: الجمهورية التونسية al-Jumhūriyyah at-Tūnisiyyah; French: République tunisienne; and Berber: ⵜⴰⴳⴷⵓⴷⴰ ⵏ ⵜⵓⵏⴻⵙ)
Geographically, Tunisia contains the eastern end of the Atlas Mountains and the northern reaches of the Sahara desert. Much of the rest of the country's land is fertile soil. Its 1,300 kilometres (810 mi) of coastline includes the African conjunction of the western and eastern parts of the Mediterranean Basin and, by means of the Sicilian Strait and Sardinian Channel, features the African mainland's second and third nearest points to Europe after Gibraltar.
Tunisia has a high human development index.[8] It has an association agreement with the European Union and is a member of La Francophonie, the Arab Maghreb Union, the Arab League, and the African Union. Close relations with Europe  – in particular with France[11] and with Italy[12][13] – have been forged through economic cooperation, privatisation and industrial modernization.
In 2011, a revolution resulted in the overthrow of the autocratic President Zine El Abidine Ben Ali followed by the country's first free elections. Since then, Tunisia has been consolidating democracy. The country held its first Parliamentary elections since the 2011 Arab Spring on October 26, 2014,[14] and its Presidentials on November 23, 2014.[15]
All sources from Wikipedia.